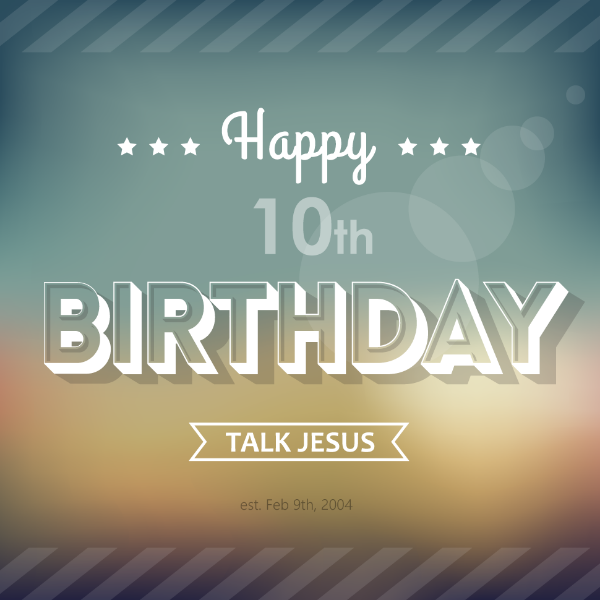 HAPPY
10th
BIRTHDAY TALK JESUS FORUMS!
On February 9th, 2004
TalkJesus.com
began from a simple ignited passion on my heart by GOD to start an online Christian community as an outreach to people worldwide, both believers and unbelievers alike. The simple sole purpose has always been and always will be to edify the body of Christ and to reach the souls that have yet to receive Christ as Lord & Savior. We've been here to answer questions, pray together, share testimonies and naturally have discussions over various topics.
For sake of of keeping the community close knit and well organized as far as the member-base goes, I have a few times over the past 10 years pruned inactive members that although registered, never made a single post. As of now, we have over 9,000 members. Technically without any pruning, we would probably have well over 30,000 members.
MODERATORS:

To my past and present moderators, I want to personally thank you for your sacrificial efforts to support this ministry, the community for GOD's purpose and helping others grow spiritually as well. You are
crucial
to this community and I know I could not have done it without your support and kind hearts. I give you my gratitude and full appreciation for your volunteer work. You've never failed and have always respected my vision and my desire to make this the best Christian online community that can be found. A safe-haven also for those who have not yet believed in Christ but had questions to ask, and they came here freely and openly asking. You have shown support and honor for this community.
Thank you sincerely and wholeheartedly!
MEMBERS:

I am glad you are here, and you are the reason why this site was created in the first place. It's about you, the body of Christ and "those seeking" as the motto goes. We love you, I love you and I'm honored to serve you and support you in your spiritual growth. Never a perfect man, but only a brother in Christ wanting to see souls saved and those saved, to grow intimately with Him. You are awesome and a blessing to our community. Thank you for being here, thank you for supporting the ministry and thank you for sharing it with others as well!
My goal also has been to have a community that is absolutely well laid out, feature rich, friendly, free of advertisement and clutter and simply an enriching, enjoyable place to be online. I continue to strive for this and continue to improve and refresh the site as much as the Lord enables me to. I'm honored to do this, I enjoy and love what I do and I'm humbled by His mercies to choose me to do what I've done the past 10 years. I've learned so much from everyone here, it's surreal. I've grown so much with the help of so many that I've opened up to and have been immeasurably blessed more than any "thank you" could express. But to say the least, THANK YOU ALL!
We push forth and continue the good race as Paul says. It all boils down to love, Jesus Christ and the hope/redemption we have in Him. No other name, no other place for salvation and eternal joy. [HIGHLIGHTER]Only Jesus.[/HIGHLIGHTER]
Remember that what you do for GOD is never too small or too big. It's

never

insignificant.
1 Corinthians 12:12-31

Spiritual Gifts

Now concerning spiritual gifts, brothers, I do not want you to be uninformed. You know that when you were pagans you were led astray to mute idols, however you were led. Therefore I want you to understand that no one speaking in the Spirit of God ever says "Jesus is accursed!" and no one can say "Jesus is Lord" except in the Holy Spirit.

Now there are varieties of gifts, but the same Spirit; and there are varieties of service, but the same Lord; and there are varieties of activities, but it is the same God who empowers them all in everyone. To each is given the manifestation of the Spirit for the common good. For to one is given through the Spirit the utterance of wisdom, and to another the utterance of knowledge according to the same Spirit, to another faith by the same Spirit, to another gifts of healing by the one Spirit, to another the working of miracles, to another prophecy, to another the ability to distinguish between spirits, to another various kinds of tongues, to another the interpretation of tongues. All these are empowered by one and the same Spirit, who apportions to each one individually as he wills.

One Body with Many Members

For just as the body is one and has many members, and all the members of the body, though many, are one body, so it is with Christ. For in one Spirit we were all baptized into one body—Jews or Greeks, slaves or free—and all were made to drink of one Spirit.

For the body does not consist of one member but of many. If the foot should say, "Because I am not a hand, I do not belong to the body," that would not make it any less a part of the body. And if the ear should say, "Because I am not an eye, I do not belong to the body," that would not make it any less a part of the body. If the whole body were an eye, where would be the sense of hearing? If the whole body were an ear, where would be the sense of smell? But as it is, God arranged the members in the body, each one of them, as he chose. If all were a single member, where would the body be? As it is, there are many parts, yet one body.
The eye cannot say to the hand, "I have no need of you," nor again the head to the feet, "I have no need of you." On the contrary, the parts of the body that seem to be weaker are indispensable, and on those parts of the body that we think less honorable we bestow the greater honor, and our unpresentable parts are treated with greater modesty, which our more presentable parts do not require. But God has so composed the body, giving greater honor to the part that lacked it, that there may be no division in the body, but that the members may have the same care for one another. If one member suffers, all suffer together; if one member is honored, all rejoice together.

Now you are the body of Christ and individually members of it. And God has appointed in the church first apostles, second prophets, third teachers, then miracles, then gifts of healing, helping, administrating, and various kinds of tongues. Are all apostles? Are all prophets? Are all teachers? Do all work miracles? Do all possess gifts of healing? Do all speak with tongues? Do all interpret? But earnestly desire the higher gifts.
And I will show you a still more excellent way.
1 Corinthians 9:24-27

Do you not know that in a race all the runners run, but only one receives the prize? So run that you may obtain it. Every athlete exercises self-control in all things. They do it to receive a perishable wreath, but we an imperishable. So I do not run aimlessly; I do not box as one beating the air. But I discipline my body and keep it under control, lest after preaching to others I myself should be disqualified.
Psalm 37:23-24
The steps of a man are established by the LORD, when he delights in his way 24 though he fall, he shall not be cast headlong, for the LORD upholds his hand.
Isaiah 40:31
But they who wait for the LORD shall renew their strength; they shall mount up with wings like eagles; they shall run and not be weary; they shall walk and not faint.
Psalm 37:5
Commit your way to the LORD; trust in him, and he will act.
In closing, thank You JESUS!



John 3:16
For God so loved the world, that he gave his only Son, that whoever believes in him should not perish but have eternal life.
Mini Survey / Testimonies...
How has Talk Jesus changed your life?

Have you met or made new friends, pen-pals through this community?

Did you come to a relationship with Jesus through this community's support?

Do you find Talk Jesus to be a great place to seek help, prayer support and online fellowship?


Feel free to post your testimony here about how this community has helped you grow spiritually and more intimately with Jesus!