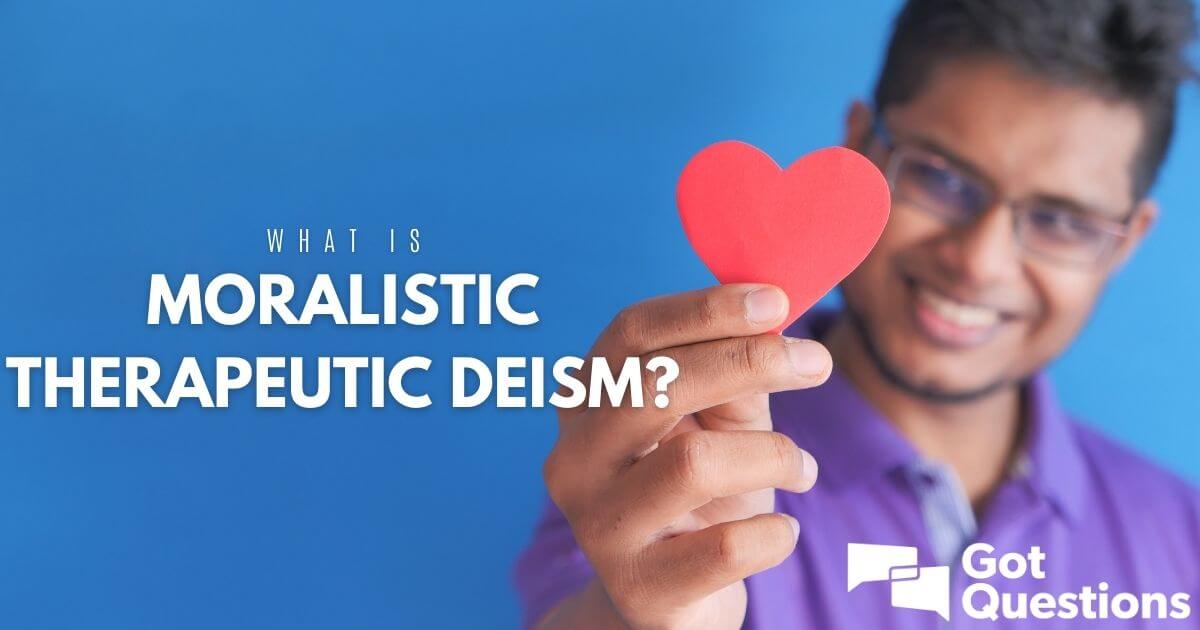 What is Moralistic Therapeutic Deism (MTD)? Is Moralistic Therapeutic Deism an accurate summary of what a lot of people truly believe?
I heard on a "Panel of Theologians" Because we have let a lot of "Norminal Christians" in the past years teach this form of non-christianity in our churches, people who thought they were true christians, and we let it happen. And it is in my house too and they think this is real christianity,, as it have been coined by "Christian Smith" and Melina Lundguist Denton" in their 2005 book "Soul Searching". "
Moralistic Therapeutic Deism
"! as they have coined it, I recgonize it even in my own household. But I never had a terminology that I could label it, but now I do.
And maybe you can recgonize it too in your household as well, if you do, we have a name for it. It has been stated, once we have recgonize the truth, it may take a few generations to righty correct our errors.
"Train up a child in the way it shall go". We have train them in the way of "Moralistic Therapeutic Deism" in our churches, schools and universities" No wonder, may I say; "God told the Parents to train our Children; teach them when they rise up in the morning, and as we sit at the table, when we walk in The Way, and when sit by The Road , when they lie down at night, teach them about me., talk to them about me. But we have fell them, We have drop them off in Sunday Schools and Bible classes, Vacation Bible Schools, for someone else to teach them, doing it our way, as if we have not been instructed by GOD, written in His Word.
We have declared by our actions, we don't have time, we have time for "Soccer Teams", "Baseball Teams", Ballet Practices, Birthday Parties, we have to go to the Spa, we have to do brunch, lunch, to gossip, and last of all, we Need a break to the "Caribbean' with room service, There is always a excuse, to not do it God's Way. But so quick to declared this with raised hands: "I can do all things, through Christ Jesus who strengths me", But we can pray for all the other things, but make excuses why we cannot teach our own children,
God gives every parent the "Gift" to teach their own children and if the devil has deceive you into thinking you don't or cannot, "PRAY"! The christain lifestyle is to deny ones self! For many of us has replace it with a "Romantic Friday night out " and if "Mother is not happy, no one is" . God did not call her to be a "Queen" , but a handmaiden a humble servant" a servant of the Lord. Let not this world take your Crown of a Servant! "Let No man , woman or friend take your crown" or rob you of your "suffering" for in this you "glorify" the Lord that sent you. Even if you do it in tears, it is honorable. You shall be called "Blesseth" no matter what the world may say. "get behind me Satan, you say the things of a man and not of GOD" "We are not of this world"
"The wise woman builds her house, But the foolish tears it down with her own hands."
The world looks at beauty and the Way God looks at beauty is so different, as far as the east is from the west. Do not believe the lies of the enemy and the deceitfulness of riches. But choose the True Treasures! Women, take care of your homes, Wives take care of your children and husbands,
God never said it will be easy, and this goes for you too, "You shall live by the sweat of your brow" and Thorns also and thistles shall it bring forth to thee, and thou shall eat the herb of the field, [
and you came from the ground as well, because you came out of Adam
,] So you shall eat until thou return unto the ground and dust shall you return. "For you are his helper, for you are One" and God has already told you, you will have it hard and painful" Let no one tell you it is a disgrace to be a worker and a sevant in your own home and that it will not be hard. God called you to be a servant and a handmaiden in your own home to be a example, for this is a honorable unto God and not a church building or a soup kitchen. There are many of singles that can do that. If not, "pray to the Lord of the Harvest, that He may send more workers' for that task. When you have gone into the closet and pray, where no one has seen you. You will see the answer to your prayers [where others will not] But you will ,in secret, see it in the open. Finally I will say this. The Word of God is true without error, only our understanding is with error. God did not make you to be Queens, But if you bow down to Satan he will, For our God has made us "slaves" until "The Coronation Day" a "Kingdom of Kings and Priest" and then we will receive our "Crowns" and Reign with Him.
"In your Patience possess ye your souls" and "the wages of sin is death" "Let no one steal your crown by Persuasion or any other form".
(Psalms 41: 9)BSB
"Even my close friend in whom I trusted, the one who shared my bread, has lifed up his heel against me"
((Psalms 55).
"12
For it is not an enemy who insults me—
then I could bear it;
it is not an adversary who deals insolently with me—
then I could hide from him.
13
But it is you, a man, my equal,
my companion, my familiar friend.
14
We used to take sweet counsel together;
within God's house we walked in the tumultuous crowd."
Only a friend can get close enough to harm you, and he or she knows where to place 'The Dagger" where it can do the must damage. The Bible is full of such stories in the Old Testament and The New. Women protect your home, these are troubling times, you have enemies on all sides, to tear it down. Trust no one, you do not know your enemies, God knows, trust Him, turn not to the left or right. Obey His Word for that is "The Path", The Way, The Truth, and there are many who lie in wait to persuade you off of its course. And Let It Be not you Who Has Become The Evil One's Companion. And let those who understands, warn those who may stray in this path, for this is so Honorable as well in The very Eyes of GOD, for many have not received such abundance of Grace as we have.
"For Jacob I loved but Esau I hated"
sorry again for being long winded.