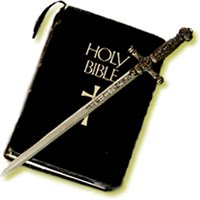 Hello friends,
I just want to first say that I've been blessed since I've joined this community. I thank God for this cyber body of Christ, if I can put it that way, that is bearing much fruit. I can attest myself to feeling the filling of the Holy Spirit frequently from my visits here.
So this question is a big one. It is more about trying to get us to think, not necessarily to make a statement or a declaration.
So I notice, and I bet you have too, that there can be a topic or doctrinal issue and you may see two, or even three different points of view(or more), while each perspective is holding to scripture as their evidence.
For example
Once saved forever saved
vs
the ability to lose your salvation, or
Eternal hell fire
vs
an annihilation of the wicked
7 literal days of creation
vs
thousands or years(a day in the LORD is like a thousand years), etc
So obviously the question is a matter of scriptural interpretation.
So how do you use the scriptures when it comes to putting various different scriptures across different books in the Bible to support a doctrine(teaching)?
What role does Church history play?
What role does the attributes of God play?
What role does the Holy Spirit play? (Does a quenched Spirit(sin) lead to false Bible interpretation?)
Do you see the WORD of God similar to light and the verses of the Bible as rays of light?
Is it such that if you only have a few verses on a topic you only have a little bit of light illuminating the dark area that you want to view, and thus
does more Bible verses on a topic necessarily mean more light on understanding?
So for example, if I believe A and you believe B (the opposite of A), and I have one Bible verse to support A but you have 20 to support B does that mean that you are correct, or is it possible that all 20 of your verses could be linked together falsely based on a skewed interpretation of scripture?
Remember the Devil tempted Jesus with scriptural support and Jesus didn't use more scriptures to counter the Devil's scriptures, instead he interpreted it properly by putting it in the right context.
Do all scriptures have to support each other when trying to illuminate a topic, or is it ok to leave some in the corner that we don't understand or feel is needed to make our case?
Just curious, let me know your thoughts. I know the Body of Christ will never agree 100% on everything, because we are in the flesh and the key is to continue in love, but I'm just curious as to learning guidelines used by fellow saints and sinners as to how to properly interpret the scripture.
Stay blessed.